Tuesday, September 23rd, 2008
Updated 2008-09-23
We've now put out a beta of 1.3.2. This beta contains a new version of Libpurple that we believe fixes the Yahoo! disconnection problem. Please try it out and let us know on the Trac ticket whether it solves the problem for you.
The original post follows.
---
Four days ago, many of our users started getting disconnected from Yahoo! after several hours. The disconnection comes in the form of an authorization error, so Adium responds by presenting a password prompt: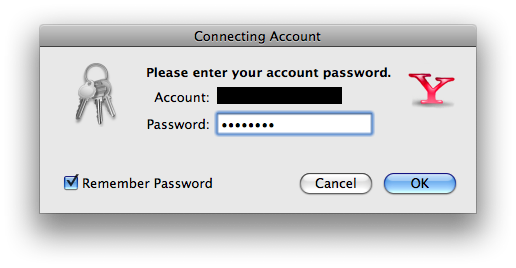 This is not new in 1.3.1: We released 1.3.1 on September 7th, so it was working fine for nearly two weeks before the problems started. It's not specific to Adium: Pidgin users are reporting the same problems. Our users are reporting that the official Yahoo! Messenger client does not get disconnected, so it seems to be a fault in Libpurple, the library that Pidgin and Adium both use.
Furthermore, we stress that Adium has not forgotten your password. As shown above, Adium fills in your old password. This is so that, if the error is spurious (as in this case), you can just hit OK. This is not a security risk, as you can't cut or copy from the password field: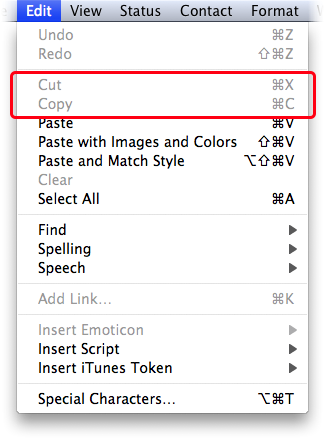 What can you do? Just hit OK. The periodic disconnections are a hassle, but you should still be able to chat.
Meanwhile, we and the Libpurple developers are still investigating the specific cause of the problem, so we know who needs to fix what.
What we need from you is information. Here are the things we already know:
You'll get disconnected after about six to eight hours (sometimes more, sometimes less).
If you use the official Yahoo! Messenger, you won't get disconnected.
If you use Pidgin, you will get disconnected.
If you use Finch, you will get disconnected.
It will ask for your password, even if you have it saved in the Keychain.
It does not forget your password. (You can tell because it's filled in in the password prompt. If Adium had forgotten your password, it wouldn't be filled in.)
We know that a lot of you are experiencing problems. Please don't leave a comment just to say "me too". We already know about the problem; its existence is not in question, so we don't need more evidence that it exists.
Here are the things we do need to know:
Debug Window output. We have some, but more is always better.
Whether any other clients have the same problem. If you use a client that isn't based on Libpurple, and either have or don't have the problem in that client, we could really use that information. The Pidgin developers have a list of clients that use Libpurple.
Please do not post this information as a comment on this post—we will ignore it. Please post it on our ticket instead.
With your help, we hope to have this problem resolved soon.
(Co-written with Project Manager Eric Richie.)